How to submit my draft document
How to submit my draft document
Updated by Prompt Support
Permissions Required: Prompt Admin or Document Author
To submit your draft document, go to the Submit button.
It will open the Submission window, where you'll have to complete the form before being able to submit your document.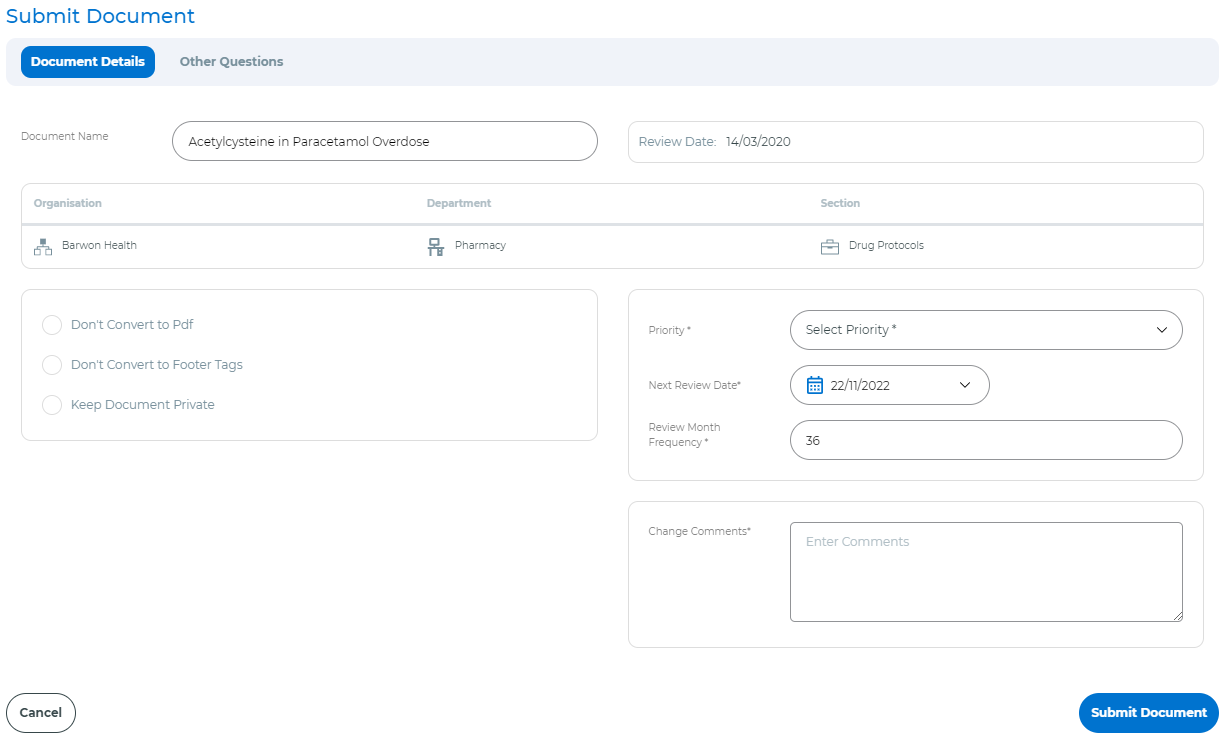 You can change the name of the document when submitting at this page if required.

The Priority selected here is used to notify Document Owners and users who are watching this document the significance of the change.

You can update the settings for the next review cycle, it is automatically populated with the default review settings of the Section the document belongs.
Next Review Date - This field will be calculated automatically using today's date and the review monthly frequency. It can also be manually overwritten.
Review Monthly Frequency - Optional field which can be used to change the monthly review frequency, after the next review specified at Next review Date.

Change comments are used to indicate the nature of the change, it is recorded at the Document History for auditing.

The Document Settings are optional settings and they are:
Don't Convert to PDF - All supported document file formats are converted to PDF by default if you select this option the document will retain its original file format. (Supported file formats are Word, Powerpoint, Excel and Publisher)
Don't Convert to Footer tags - Document tags in this document won't be converted
Keep Document Private - This document won't be searchable for users of other organisations. As Prompt encourages information sharing, this option is recommended to be used to keep Confidential information.

Then you'll have to go to the Other Questions tab to complete the submission form. The submission form is customized by each Organisation. When complete select Submit Document to complete.

A success message will appear to confirm the document submission, you may now close the document at the Close button. You will lose access to your document and it will be sent to the approvers to be evaluated, this process may take a couple of minutes as the document will go through internal conversions before being available to approval. If approved you will receive a notification when your document becomes live, If rejected the document will be sent back to you for editing.