How to set up an anonymous user
How to set up an anonymous user
Updated by Prompt Support
Permissions Required: Prompt Admin
The anonymous user profile allows users to search for documents in Prompt without requiring the entry of a username and password. This profile has limited privileges and can only view and download documents. 
Important: In order for anonymous users to work, it is necessary to set up your organisation IP Configuration.
To obtain the correct IP range, please contact your internal IT department. If you need to update the IP config for your organisation, please contact PROMPT Support.
To create a user, go to Admin -> Manage Users, select Add User 
At User Role drop down select Anonymous User. When selected a URL is created. The URL address for this "user" should be given to internal IT to connect between the icon on the intranet and the Prompt system.

Enter a Display Name for the newly created anonymous user, if you plan to have more than one anonymous user use a display name to identify its purpose. E.g.: Anonymous - Emergency, Anonymous - Radiology, Anonymous - Aged Care.
All users in Prompt require a unique email address, for anonymous users, it is suggested to use an email group. 
Select the Next button to proceed to the next step.
It is not possible to set a password for anonymous users as the only way to access Prompt with an anonymous user is through the Auto Login URL.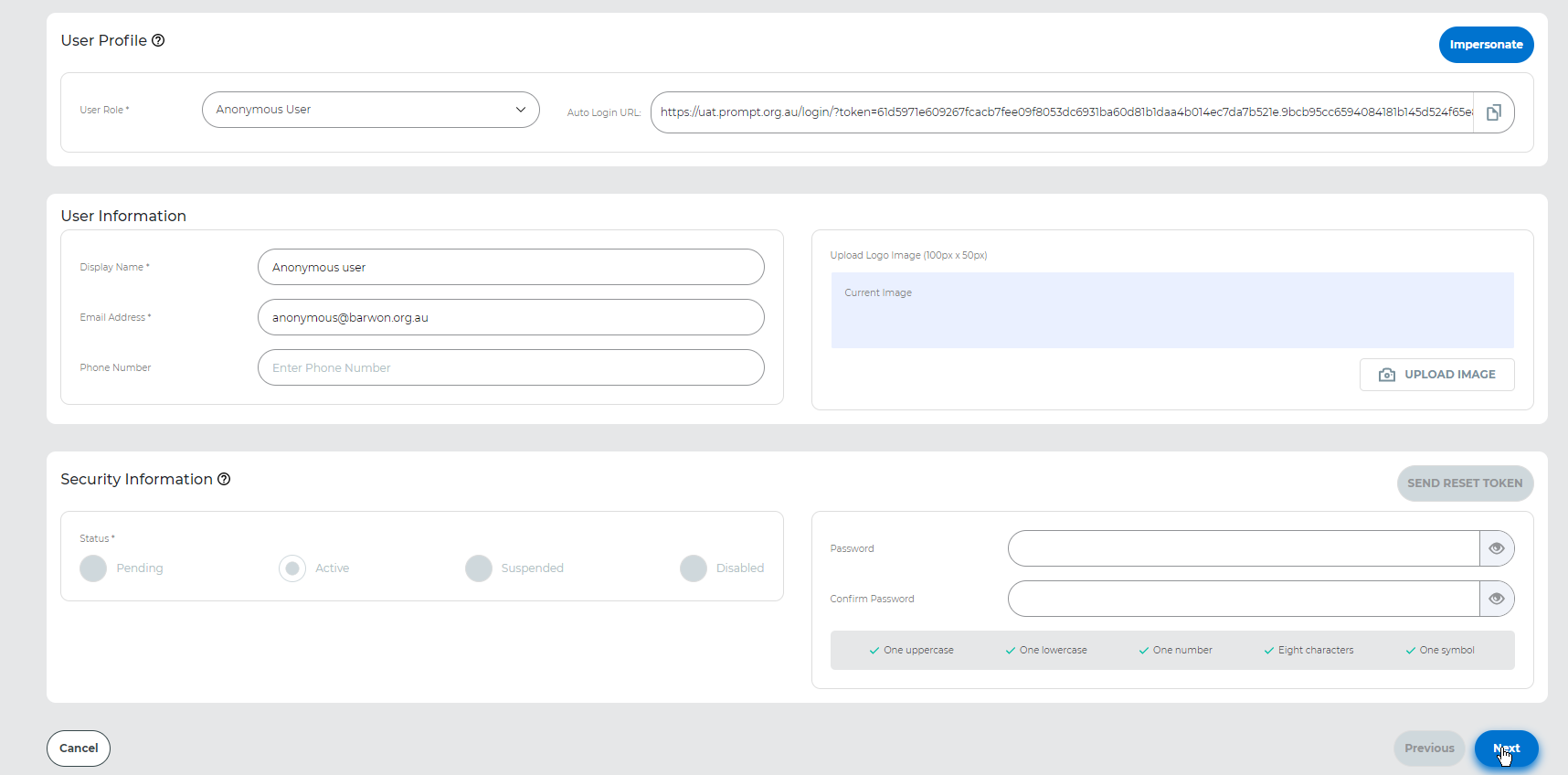 Set the user organisation access, by choosing a department and a section.
Users with the anonymous profile will only be able to search the documents from the department they are assigned by default.
Additional departments can be assigned in the Set Department Access section of this page.
Anonymous users cannot search for documents outside their organisation, to enable Cross Organisational Search a general user must be created.


When all the department access rights are selected, select Submit to create your user.
Anonymous users cannot have any administrative rights and generate reports, it will not be possible to assign any user permission in the User Permissions page.