How to create, update, use and remove Styles within drafting
How to create, update, use and remove Styles within drafting
Updated by Prompt Support
Styles in Drafting
The Drafting system allows the use and modification of text styles, that can be applied to text within your document keeping documents standardised and easily updated within branding guidelines.
Applying Styles

Highlight the text you want to style and then select the style you wish to apply from the style menu.
Additional styles can be found by expanding the options with the down arrow to the right of the menu.
Customising a Style
There are two options to apply a new style.
Apply to an existing style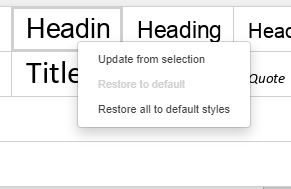 Highlight some text
Right click on an existing Style
Select Update from selection
Create a new custom style

To save a custom style:
Update some text to the style you want within the document (Font, Size, Colour etc) and highlight it
Expand the Styles option box by clicking the down arrow on the right of the menu
Click New style from selection
Give the style a name and click OK
Updating a style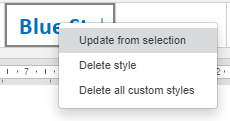 Update a style by selecting text with the style you wish to apply, right click the style and select Update from selection
Resetting style back to default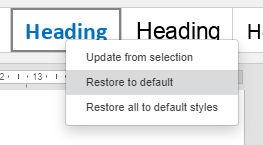 Right click on the updated style, and select Restore to default.
You can also restore all styles back to default in the same menu, by selecting restore all to default styles.
Removing a custom style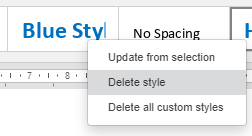 Right click on the custom style, and select Delete style
You can also remove all custom styles in the same menu, by selecting Delete all to custom styles.